WISSEN IST MATT!
This monthly newletter informs you about interesting new things in the chess world and what is happening behind the scenes at ChesBase

Subscribe to our chess letter!

Please insert your email address
---
Chess Letter November 2014
Dear chess friends!
The countdown has long since started and this Saturday will finally see the start of the chess event of the year - the World Championship duel between title holder Magnus Carlsen and Challenger Viswanathan Anand in Sochi!

Last year, Carlsen may not have had the home advantage, but he dethroned Anand convincingly and without conceding a loss 6.5 to 3.5. But what can we expect this time around? Magnus is still the undisputed world number one, and is going into the match as the clear rating favourite.

That being said, the last two supertournaments that he played, in Norway and in the USA, he had to settle for second place. Vishy Anand, however, surprised a number of experts with his exceptional victory over all the other challengers in the Candidates Tournament and in September also won the Grand Slam final in Bilbao. Indeed, many reports don't see Anand as that much of an underdog – will he bounce back this time to reclaim the title he held until last year?

What's more, this time around in Sochi, the roles will be reveresed - the "Tiger from Madras" can't lose the title any more - only win it - so by all accounts, the match is set to be explosive!

The players have been preparing for months - but are you ready? Treat yourself to the best coverage - on Playchess.com!

Become a Premium member and enjoy exciting live commentary of all the games at the World Championship. This year, ChessBase has put together an unbeatable team of commentators. Read more below.

World Championship - Live!

All the games will be broadcast live and with expert commentary - in four languages simultaneously – German, English, French and Spanish!

Commentary in English will be provided a tried and tested team who know how to explain what's going on better than most and, this year, features Daniel King, Parimarjan Negi, Chris Ward, Yannick Pelletier, Simon Williams, Rustam Kasimdzhanov, Loek van Wely, Irina Krush and many more!

Check out the full schedule here: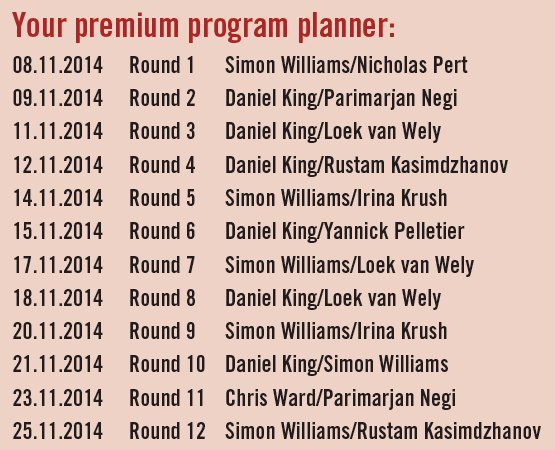 So what do you need to be a part of the action? If you aren't already a Premium member, the only thing you can do to make sure you don't miss out on the action is order a Premium serial number from our online shop today! That way, you can be sure that you won't miss a second, and will be able watch the match with our incredible commentary right from the word go.

Become a Premium member now...

Download free Playchess.com software...
New Fritztrainer DVDs this November: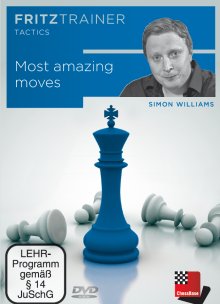 Simon Williams: Most Amazing Moves
Just like the paintings of a great artist or the sounds of a symphony, mind-blowing moves can also be a great source of aesthetic pleasure to chess players. This interactive DVD presents viewers with some of the most beautiful and unbelievable moves in the history of chess - and also reminds us that we don't have to go back so far in time to see modern virtuosos at the board either! The interactive format invites the viewer to search for brilliancies, in essence, to walk in the footsteps of the best players of all time! Simon Williams' DVD covers every aspect of the royal game, including brilliancies straight out of the opening, middlegame miracles and endgame extravagance and also looks at brilliant tactical shots, paradoxical manoeuvres, material sacrifices and positional shockers.

Take a closer look at Simon Williams's "Most Amazing Moves" in the ChessBase Shop...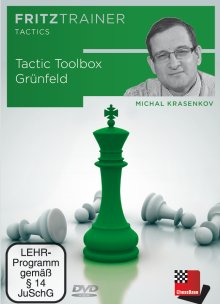 Michal Krasenkow: Tactic Toolbox Grünfeld
The Grünfeld is an active opening that often leads to razor-sharp positions. It stands to reason, then, that knowledge of the tactical patterns that arise in this opening is of paramount importance to your success when playing it, and such knowledge needs to be constantly kept up to date. Grünfeld expert GM Krasenkow has compiled 69 tactical exercises from GM games in a dynamic and interactive format on his very first ChessBase DVD. The exercises are ranked according to their level of difficulty, with the first few positions being fairly simple -their thematic solutions prove easy to find. However, as you progress through the collection, you will become ever better acquainted with the standard patterns in the Grünfeld The final puzzles are so difficult that not even a top grandmaster was able to find the right way forward at the board!

Check out Michal Krasenkow's "Tactic Toolbox Grünfeld" in the ChessBase Shop...

See you on the server!


---
ChessBase Schachprogramme Schachdatenbank Verlagsgesellschaft mbH
Sitz der Gesellschaft: Mexikoring 35 - 22297 Hamburg
Telefon: 040-63 90 60 0 - Fax: 040 630 12 82
Geschäftsführer: Matthias Wüllenweber und Rainer Woisin,
HR Amtsgericht Hamburg HRB 40336
UST-ID-Nr. DE 118644875 Finanzamt Hamburg-Nord - St.-Nr. 26/834/00362